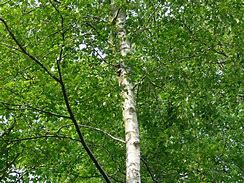 Alder
Latin:
ALNUS GLUTINOSA
Irish:
FEARNÓG
One of Ireland's most traditional and widely distributed trees, alders may be found in damp areas, beside freshwater loughs and along river banks, where their strong fibrous roots may help to keep the bank in place. Alder woodlands are found in Ross Island, Killarney, Co Kerry and the Gearagh, Co. Cork, while Grantstown Wood, Co. Laois is a rare example of wet woodland on an alkaline soil.

Like most trees, alder flowers before the leaves are out, with attractive reddish catkins and small cones that contain the seeds. Alder will grow in most soils, and likes wet sites. Given rich damp soil alder will grow rapidly and is a really productive tree for timber. In ancient Ireland sections of alder trunks were used as round shields. Later, it was used for making clogs and also in the furniture trade where it was known as 'Irish mahogany'. As it is resistant to decay when submerged in water, alder is used to make sluice gates and other structures along streams , rivers and canals.
Dedicate a Native Tree in Brian's Wood
Hawthorn
Latin:
CRATAEGUS MONOGYNA ROSACEAE
Irish:
SCEACH GHEAL
Hawthorn or white thorn was planted in hedges throughout our countryside. Its sweet smelling 'May' blossom is a feature in that month, and in autumn and winter the deep red haws colour the bare twigs. They are among the berries most favoured by birds. Only untrimmed hawthorn can flower and fruit freely, but hedges have to be cut to keep them stock proof. Hawthorn hedges may be trimmed regularly, or left for several years and then laid by cutting part way through the main stems and laying these horizontally through the hedge. Even old hawthorn hedges will regenerate if trunks are cut back to base and left to sprout again, but these must be fenced off so that farm livestock cannot reach the tasty young shoots and eat them. Like many other shrubs, hawthorn also grows in woodland where there is enough light – in open glades, along 'rides' through the woodland, or along the edge. A single tree may be left in a field as a 'fairy thorn', especially where there may be an archaeological site.
Dedicate a Native Tree in Brian's Wood
Oak (Common Oak)
Latin:
Quercus robur
Irish:
Dair
Family:
(optional)
"Trees are essential to the future of the planet."
Sir David Attenborough
The ruling majesty of the woods, the wise old oak holds a special place in our culture, history, and hearts. It supports more life than any other native tree species in the British Isles, even its fallen leaves support biodiversity. A large, deciduous tree growing up to 20–40m tall. Also known as common oak, this species grows and matures to form a broad and spreading crown with sturdy branches beneath.The Woodland Trust
Oak was revered by many cultures throughout Europe, The oak was sacred to many gods, including Zeus, Jupiter and the Celtic Dagda.
The Celtic meaning of the oak tree deals with symbolic themes of durability, purity and constancy.
Dair, D – Duir is the seventh letter of the ogham alphabet and the seventh month in the Celtic tree calendar. The Oak is also a symbol of Life, Strength, Wisdom, Nobility Family, Loyalty, Power, Longevity, Heritage and Honour.

Dedicate a Native Oak Tree in Brian's Wood
Silver Birch
Latin:
Betula pendula
Irish:
Beith gheal
Family:
(optional)
The birch tree, described by English poet Samuel Taylor Coleridge as the "…most beautiful of forest trees, the Lady of the Woods". (The Picture or The Lover's Resolution 1802) is a native to many European countries and parts of Asia. The name birch is thought to have come from the Sanskrit (ancient language of Hinduism) word bhurga meaning the 'tree whose bark was used for writing on' as birch bark can be used for this purpose.
Silver Birch symbolised renewal and purification in early Celtic mythology. In Irish, Beith gheal (bright /white birch) originates from Beithe, the first letter of the Ogham alphabet, or Celtic tree alphabet, meaning "birch".
The tree was popular during the festival celebrations of Samhain when birch sprigs were used to drive out the spirits of the old year in preparation for the incoming Celtic new year. Broomsticks or besom brooms were made to banish evil spirits and even today the broom is used to clean and purify.
Cradles made from birch were certain to protect newborn babies from malicious spirits and in Scottish Highland folklore, pregnant cows herded with a birch would bear healthy calves.
A symbol of regeneration and hope, the Druids were believed to have used sap from the birch tree to make celebratory spiritual drinks at the spring equinox.
On Bealtaine, May Day, the start of the Celtic summer, the birch was first choice as the tree to make the Maypole, which was decorated, danced around and later burned at the bealtaine fire.
As one of the first trees to come into leaf in spring, 'the graceful birch', as Wordsworth described it, was an obvious choice for our ancestors to signify the start of spring.





Dedicate a Native Silver Birch in Brian's Wood